Selling in the Internet Age is a compelling eLearning offering to help sales, marketing and customer-facing support professionals to level the playing field with buyers; through improved communication, language and interpersonal selling skills for more effective diagnosis and lead qualification. Salescraft process methods and tools help to align with how customers buyers and gain control in selling situations.
Cambridge, England November 3, 2009 -- Advanced Marketing Concepts Ltd. announces the release of Selling in the Internet Age (SIIA)-, an eLearning program for B2B sales, marketing and customer-facing support professionals selling complex products and services in software, high-tech and green-tech industries. SIIA – which works with any existing sales methodology – is an eLearning course for developing in-person and telephone selling skills, combining the theory of communication, language and interpersonal psychology with tools to convert learning into action.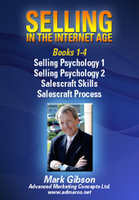 Customer facing selling skills for the whole team
The program, developed over the past three years, recognizes that the Internet has changed buyer behavior and that buyers have the upper hand. Today only one in four salespeople gets a second meeting with a prospect*1, hence the value of a 1:1 sales call has risen dramatically; – sales, marketing and support people need better communication and rapport, language and interpersonal skills to engage, diagnose and qualify opportunities to improve sales performance.
Everyone can improve customer-facing skills starting today by tapping into SIIA, which leverages a modern eLearning platform (CogBooks) developed by a team of learning and sales experts. Recognizing that pre-knowledge level can be different for each user, this platform builds on individual understanding to offer a unique pathway for each user to develop knowledge.
SIIA is available as a complete curriculum including all four books, or as individual modules:
1. Selling Psychology 1 challenges salespeople to become responsible for their own professional development, and examines four different communication models and the neuroscience of rapport and empathy to develop advanced communication skills.
2. Selling Psychology 2 is about the use of language to create clarity and meaning in interpersonal communication and the use of Transactional Analysis to gain leverage and control in selling situations.
3. SalesCraft Skill develops skill in the two most important aspects of selling craft: generating new business and strong diagnosis and qualifying sales leads.
4. SalesCraft Process offers downloadable tools to help align with buyers in the sales process, provides new insights into how people buy using the I-M-P-A-C-T model, and explains Value-Created Selling, critical when selling innovative products, services, or architectures.
SIIA Books 1-4 are licensed for 12 months on a per user license of $160 per book, or $600 for the complete course. European Union residents will be subject to VAT at 15%. As a special introductory offer, readers are are eligible for a 20% discount on the list prices for any of the courses. Offer expires on 10th November 2009. (cannot be combined with quantity discounts) Click here to register and receive a coupon
SIIA eLearning is part of a structured learning method that combines selling theory and skills development with sales knowledge. Skills taught in SIIA require regular practice, along with role playing and coaching and feedback from field sales managers. Specialist coaches are recommended to attain mastery.
*1 www.csoinsights.com
About Advanced Marketing Concepts, Ltd.
Advanced Marketing Concepts Ltd. delivers and implements Sales and Marketing Messaging alignment, Inbound Marketing partnering with HubSpot Sales and Marketing Alignment, B2B selling training, performance support and coaching in a blended learning solution. www.admarco.net Contact: Mark.Gibson@admarco.net
Hot Rivet is a professional services company which enables companies to align its sales culture and infrastructure to the appropriate buying culture ( www.killer-products.com ) in the market. Hot Rivet's founder, Dominic Rowsell, is the author of "Why Killer Products Don't Sell", a book which reveals the secrets in selling disruptive solutions and services into the banking and technology industries.
Contact Dominic.Rowsell@HotRivet.com.
CogBooks delivers advanced web-based learning technology to the world's leading companies. CogBooks learning technology is designed using modern learning theory and research. To learn more about how we can transform your elearning, go to www.cogbooks.com or email us at info@cogbooks.com .