Introduction
Pebble Beach, Carmel and the Monterey Peninsula are jewels that are not to be missed on a trip to Northern California. Lots of friends in the technology business from Silicon Valley and all over World visit us here in Pebble Beach and we get many similar questions. This is a quick reference guide for first-time visitors and those who would like to know more about visiting Carmel-Monterey area.
"If I had only one more round to play, I would choose to play it at Pebble Beach. I've loved this course from the first time I saw it. -
Jack Nicklaus.
This is the 18th at Pebble Beach, taken from The Bench... imagine yourself here.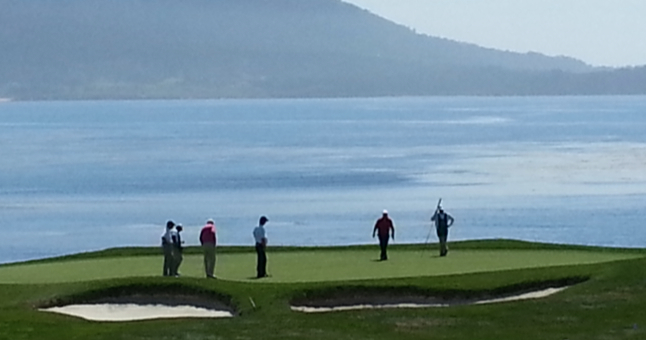 "Pebble is a piece of sacred ground. They say it's the greatest meeting of land and water in the world."
-
Johnny Miller
"The coldest winter I ever spent was a summer in San Francisco"

Mark Twain did not say this, however it's good advice for visitors - bring a jacket. The temperature in the region varies between 45-70, it's seldom hot, but often cool. Lots of people get a shock when they arrive from the Bay Area; when the temperature is in the 90's in San Jose, it can be 60F in Monterey/Carmel, due to the predominate maritime influence and in particular the onshore marine effect which delivers fog to much of coastal California in summer. Best weather is from mid-September to June. October is hottest month. December and January are also warm and sunny.
If you are planning to fly to the West Coast to come to Carmel/Monterey, why not fly in and out of the Monterey Airport. You'll like the no-waiting security line, also an excellent restaurant for a meal before you depart and the extra you have to pay for the airfare is saved in travel time and hassle getting to and from Bay Area.
Who should read this?
This guide isn't for everyone. It's what we like and find attractive, interesting, tasteful and of value. If you are under 35, you might find this list a bit staid and prefer the more popular and vibrant attractions in Monterey, Cannery Row and Fisherman's Wharf.
When we go out to dinner, we prefer the casual company of well

traveled

friends, excellent service, consistently good food and a strong wine list and where you feel you have received value for the hard-earned money you have spent.
There are plenty of other attractions in the region that I have not discussed and that we have not been to - and we hope you have fun discovering them....please feel free to add your comments to this blog in the comments section below... and please visit the Monterey Bay Aquarium it's a must for any first time visitor of any age.
Why did we do it?
We love this place and have been coming here for 20 years playing golf and having fun and had the pleasure of living here from 2010 to 2015. We hope by sharing this that you will enjoy some of the best things down here, save time not having to research yourself and enjoy quality food and wine without spending the earth.
The Outdoors
Big

Sur
Walking, viewing scenery, Julia Pfeiffer Burns State Park, the best views on the drive from Carmel to Big

Sur

... it takes longer than you think it will because you will make frequent photo stops.
Point

Lobos
Walking and wild-life, outstanding photography of diverse landscape. 5 minutes from Carmel and stunning surf-spray when the swells get over 20 feet in winter... scary but awesome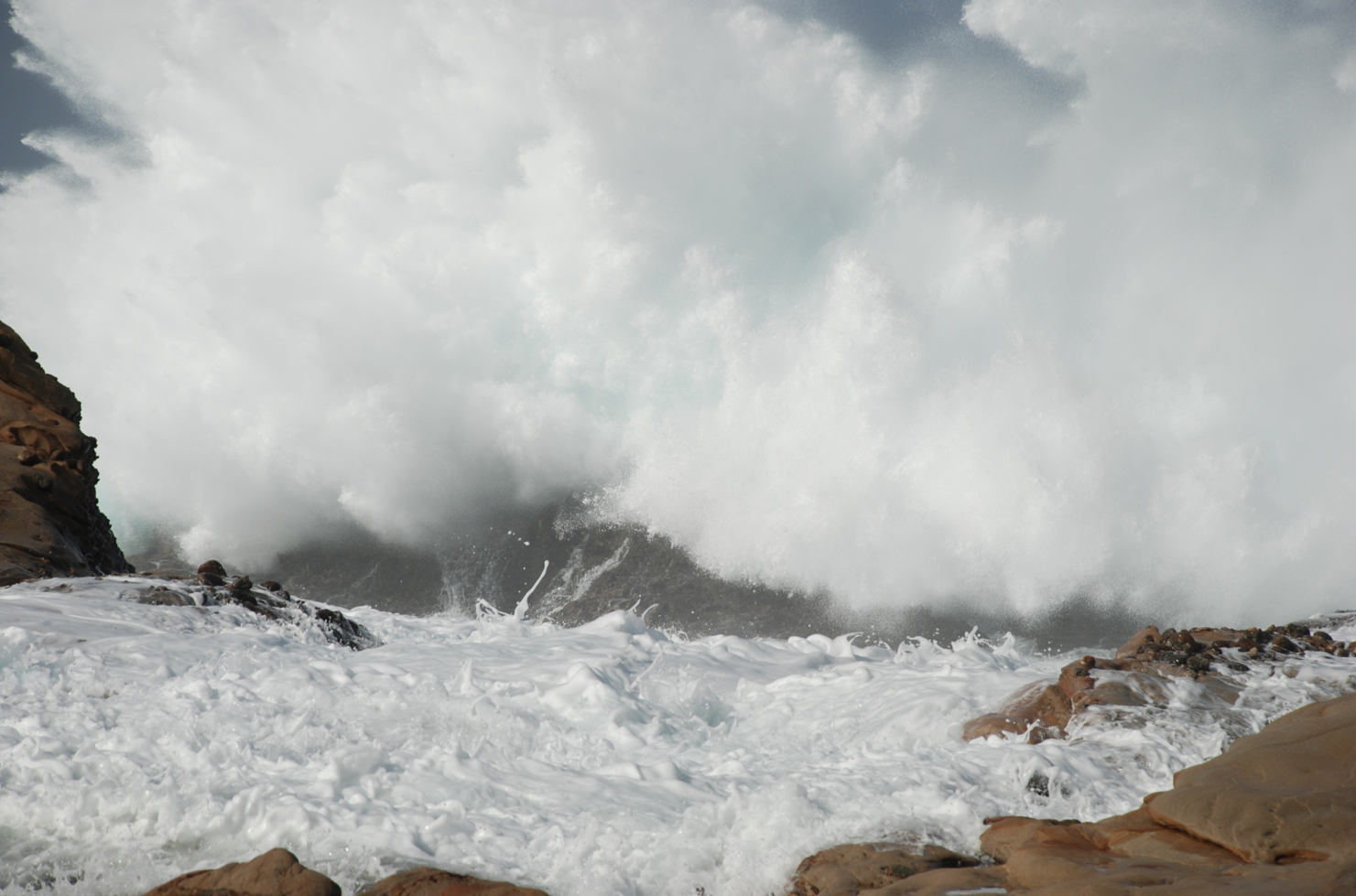 Elkhorn

Slough
Kayaking - first rate rental equipment and fairly safe, they make you wear all the clobber which you can hire - (given that kayaks have about the highest fatality rate of anything you can do on the water) - you can swim to the shore and it's seldom rough.

Rafts of Sea Otters - that's what you call a bunch Otters that float around together.

While you are in Moss Landing, enjoy the fish and chips at Phil's fish market for lunch.
Garrapata State Park
Beach access, walking.
Pebble Beach 17 Mile Drive
Walking, scenery, photography, picnic tables.
Garland Ranch
Walking trails, sunny when its foggy in Carmel.
Golf
Bayonet/

Blackhorse
Recently renovated, outstanding, both courses great,

Blackhorse

easier, should run under $100 inc. cart.
Poppy Hills
Reopened after renovation. Much improved layout, more fun, better greens, everything is better.
Old Del Monte
Old fashioned layout, small greens, sunny when it's foggy weather.
Monterey Peninsula CC
Private: Both courses outstanding, get a friend to organize a game, most ocean views of all the courses.
Spanish Bay
Interesting, hard, some true links golf, be prepared to lose >6 balls per round if you are not hitting it straight.
Spyglass
Hard, long, play the whites unless you like humiliation.
Quail Lodge
When its foggy in Pebble, its sunny and fun to play here.
Pebble Beach
This is going to run you over $500, but its a bucket-list must-play!
Cypress Point
Very Private, Bing Crosby was a member.

Few will play here. The closest most people get is the road that swings past around Cypress Point.

This is the finest course I have ever played and I've had the pleasure 3 times.

You can go in to the pro-shop and buy an expensive logo-ed shirt or hat - they won't bite you…they just don't want tour buses pulling up.

The 16th at Cypress Point - A 180 yard par 3 into the wind, I hit driver to pin high.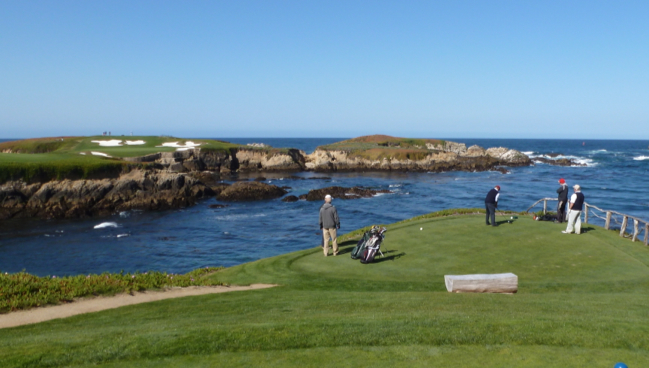 Restaurants
Pacific Grove
Fandango
A favorite, sand dabs (a local, sweet, shallow-water fish) outstanding as a starter, best lamb on the best, mesquite-grill, great wine list. Say hello to Pierre for me, French

Provencale

.
FiFi's
Pebble Beach Insiders love this place - me too, older crowd, great food, service, bargain wines, say hello to Calvin or Michele for me.
Passionfish
Seafood and great wine program
Point

Pinos

Grill at PG Golf Links
Unsung, but serious food, good value
Monterey
Montrio
Busy, American
Ambrosia
Indian - ask for it normal spice or it gets dumbed down for American palates and bottoms.
Siamese Bay
Thai - Don't ask for it hot unless you are a masochist
Carmel
Mundaka
Tapas

and vibe,

Tempranillo, love this place.
Tommy Woks
Best Chinese - take out, insanely busy, no atmosphere, but food from the wok is fantastic.
Flying Fish
Busy, book
Dametra
Cafe
Mediterranean, fun and entertaining, recently doubled in size, so less waiting.
Luca
Good pasta, pizza, salumi, sophisticated vibe, home made mozzarella, love this place.
Andre's

Bouchet
Good French traditional and strong French wine-list.
Carmel Grill
Unpretentious, comfortable, reasonable.
Pebble Beach
Roy's
, at Spanish Bay
Lunch - have the Asian Chicken Salad with a bottle of Riesling from Germany or Austria.
Stillwater

Grill
at the Lodge at Pebble Beach
View is worth paying for.
Poppy Hills

Renovated inside as well as the course. Great dining room for lunch or breakfast 7 days a week.
Carmel Valley
Cafe
Rustica
French Provincial, a favorite, great for lunch, sit outside
Vineyard Bistro
Breakfast and lunch,

al

fresco
Baja Cantina

A new find and a hidden gem and fun place to stop on the way back from a wine tasting session in Carmel Vallety for a few cleansing ales. Really good Mexican food, great bar, and party atmosphere. Vintage automobile memorabilia. Thursday night is old car night and an R&B band... book or get there before 5PM.
Breakfast Places

CarmelKatie's
Busy, people spotting
Carmel Belle
After breakfast check out the hat shop in the arcade - excellent hat selection
Pacific GroveHolly's Lighthouse

Cafe
The Bakeries
Monterey
Paris Bakery
Pacific Grove
Pavel's

Bakerie

- best 3 seed, 9 grain bread on the planet, chocolate croissants have a wonderful

ganache

. Closed Sunday and Monday, sells out by 10.30AM on Saturday.
Patisserie

Bechler

- fruit tarts
Real Ale Pubs
Pacific GroveCannery Row Brewing Company
70+ beers on tap, great vibe

Monterey
Alvarado Street Bewery

New gastro, brew-pub, buzzy, busy, good food and strong line-up of in-house and guest ales.
Crown and Anchor

Feels like I'm back in London 30 years ago.

Britannia Arms
As close to an English Pub as you can get without the hand-pumped, real ale.
Peter B's Brewpub

In the

Portola

Hotel


Carmel,
La Playa Hotel

Not your usual bar. Old World bar and a distinctly South of France feel in this hotel. No restaurant, but great bar and lounge, great ales on tap.
Hog's Breath Saloon

Clint Eastwood sold this place 20 years ago, but its still a good spot on a warm day - heaters if its cold.
Driving tours
River Rd. -

Jolon

- Ferguson-

Naciemento

Rd - Big

Sur
A great day trip; start at Whole Foods, Monterey to pick up a picnic lunch, stop at Hahn for a tasting and pick up a bottle of wine for lunch; picnic at the San Antonio mission at

Jolon

in Ft Hunter

Ligget

....beautiful country. A white knuckle drive over the Ferguson-

Naciemento

Rd up to 3,000 ft. on a narrow Rd. (See "B-Movie",
The Wages of Fear
to adequately prepare for the drive) - to the coast and stop for a drink at Nepenthe in Big

Sur

, for stunning views and a bottle of wine from one of the best wine lists between SF and LA. After quenching your thirst, go across the road for dinner at

Ventana

...serious food and views. If you really want to splurge, Post Ranch is top of the charts and expensive - book to avoid disappointment.

Hearst Castle
Just 90 miles and 2 hours drive from Carmel, but a World apart. Hearst Castle is an unforgettable experience and one to be savored. A visit to the upstairs rooms should be reserved in advance to avoid waiting for afternoon availability.
Lunch at Sebastians general store and a wine tasting of the Hearst Wines in the old Whaling station is a must. A walk onto the jetty and a close up look at w
hales in the bay
in the season. A beautiful drive over the Santa Lucia Highlands on a great new road and a stop to taste wines in Paso Robles in the afternoon. Dinner at the Taproom restaurant at the Firestone Walker Brewery in Paso Robles caps off a great day with a 2 hour drive back to Carmel.
Big

Sur

/

Rocky Point
The drive from Carmel to Big Sur is one of the finest in the World. But I would go about 30 minutes past Big Sur to Julia Pfeiffer Falls, worth the drive.
Then work your way back, stopping at Nepenthe in Big Sur for a glass of Gruner Veltliner, Austrian Riesling or Domaine Carneros Burt - don't eat here, but excellent wine list by the glass.
When you are done at Nepenthe, you could stop at the River Inn at Big Sur for a pint, lovely spot, if it's hot, sit in the creek on an Adirondack… and enjoy the serenity.
Then you might drive about 15 minutes North to Rocky Point and grab a seat and a beer and have something to eat for early dinner. Best views on the coast from here. Good food here too… but wine list weak.
Rocky Point on a big day.
Carmel Valley
If you feel up to it go to Carmel Valley (about 20 minutes from the Carmel Crossroads) and visit Boekenoogen tasting room + a dozen others. Stop at Baja Cantina on the way back for beers and Nachos. Tasting Rooms shut at 5 or 6.
You've had a big day!
Special mention, California Cafe at Highlands Inn for brunch/ lunch or eveneing drinks, the views are terrific, if you have even less time.
River Rd - Arroyo

Seco

- Carmel Valley
Solid half day trip, wineries and scenery, there must be 10 tasting rooms in Carmel Valley

Moss Landing
Rafts of Otters, Surf Beach when the swell is up, kayaking, fresh fish and chips for lunch.

17 Mile Drive

Inside Pebble Beach is worth the $10 price of admission....which will be refunded if you buy anything at the restaurants or bars in Pebble Beach.
After 5 cocktails
Clint's Place
Mission Ranch, Carmel - Clint Eastwood sightings are common later in the week after 8.00. Great place for people-watching & cocktails outside, admiring the view toward Pt. Lobos.
Mission Ranch, Carmel is a favorite spot on a sunny late afternoon
The Fire Pits Spanish Bay
Bring a jacket, it's usually cool, cold if the breeze is blowing, good people watching.
Cypress Inn
Dog lovers, love this place. Classy cabaret singer on Friday, Saturday from 7PM
The Bench - Pebble Beach
Good line up of real ales, fine wines, classy place - book for

dinner
BYO
Take your own picnic and favorite tipple to the picnic tables on corner of 17 mile Drive and Ocean Ave inside Pebble Beach and enjoy beautiful views and the sound of the sea a few yards away.
Concours

de

Carmel
This is a free warm-up to the Concours

de

Elegance, held in mid August each year and several hundred cars line up for up-close public viewing in Ocean Ave. Carmel.
My daughter Olivia at last year's event standing next to a Cadillac 1947 Club Coupe.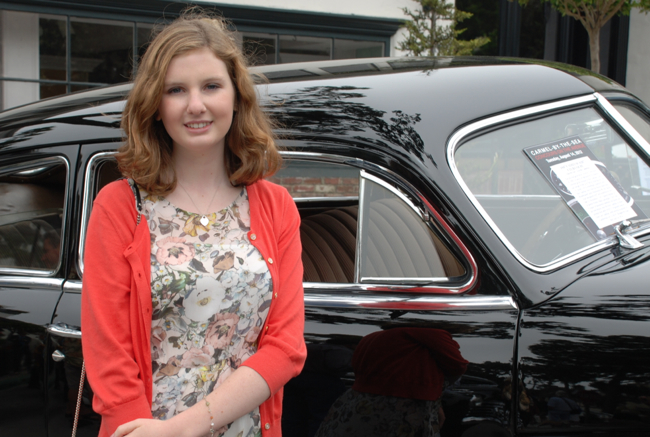 A Warning
Monastery Beach and Carmel River Beach are two of the most dangerous beaches on the West Coast and claim more than a few unwitting victims every year. I have seen kids playing on these beaches unattended, running down to the waters edge and back up the beach to escape the breaking waves.... only to be bowled over and in serious trouble from a double wave or a bigger wave.

Also sitting on rocks close to the water can be fatal.
Never let your kids play on these beaches as big wave sets can come from nowhere (even on a seemingly calm day) and knock little ones - and adults over. The beaches are very steeply shelving so within one or two paces you are up to your neck and swimming in icy water against strong rips. Be warned and if you have kids, take them to the Carmel River Lagoon where the water is warm and safe - except for the normal pollutants.