Last week I co-hosted a "What Great Salespeople Do", Story Telling Webinar with Mike Bosworth
to explore what the top 13% of salespeople are doing, that the core group has yet to master.
It's not that the core group is doing something bad; they're simply not doing what top performers do on a consistent basis.


Story telling and communication skill is a common trait for great salespeople; it's something many do naturally. You could say that great salespeople are born with it and to a degree this is true, the home they were born into and were brought up in was probably one where the family sat around the dinner table and told stories.
There were a couple of technical hitches with the Webinar which prevented me from recording it and for those that registered and did not have an opportunity to attend, my apologies and I have sent you the link to download a .pdf of the presentation and script. If you would like, you can
download the Story Seekers Webinar presentation
and script here and reserve a place at our next Webinar.
Story Telling Survey Results & Analysis
Additionally we asked participants to complete a brief survey to gather basic information prior to the event. The survey sample is not statistically significant as it was completed by only 18% of registrants from a total pool of 89 who registered for the Webinar; it is however interesting in itself as the survey represents the thinking of early adopters of storytelling techniques. Here are the results.
Question 1. Have you and/or your team done any formal storytelling and listening skills training in the past?
Analysis
The results indicate an opportunity for training companies and reinforce what Mike and I already know; mainstream sales managers and sales enablement professionals do not appreciate the importance of developing story telling and listening skills in salespeople.
Salespeople in general are poorly equipped for the most important facet of selling... connecting with other human beings in a genuine, non-manipulative way. Billions of dollars have been spent on technology and training to help almost every other facet of selling, other than developing the most important skill for salespeople; human connection.
Question 2. Is there any interest in combining visual storytelling with advanced storytelling and listening technique?
Analysis
This is an exciting opportunity for my business and for other training companies who create messaging and use it in visual storytelling to help salespeople tell their story. Having worked with Whiteboard Selling as a contractor and affiliate for 2 years, I saw the value of rapid repetition of the whiteboard story to create message ownership in the space of half a day.
Salespeople value story telling as a skill and they also recognize the value of visual storytelling. The absence of integrated storytelling and listening skills training combined with visual storytelling, using visual confections, is an opportunity we intend to pursue.

As Mike Bosworth elegantly puts it, you have to build trust before the buyer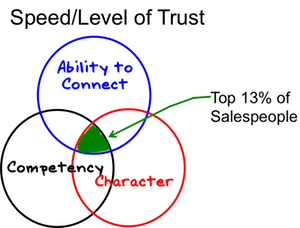 will be receptive to your visual story or sales story in any form and speed of trust is established through a combination of competence, character and an ability to connect. It's what the "naturals" or top 13% of salespeople do naturally vs. what the rest of us need to learn to do and deliberately practice until we master it.

My conclusion based on the visual storytelling experience with WhiteboardSelling and in having invested in a recent StorySeekers storytelling workshop with Mike Bosworth is that story telling and learning to truly listen come first to build trust, then the buyer will be prepared to engage in your visual story.

Question 3. What are the top 3 problems you and/or your sales team is struggling with?
Analysis

No surprises here really as these results echo recent surveys from CSO Insights and Sales Benchmark Index. Sales Benchmark Index reported that 60% of forecast opportunities end in no-decision. CSO Insights reports longer sales cycles as a chief concern in our new economy as conservative buyers create larger committees to perform due diligence.

Weak lead flow is a common problem in technology companies who have yet to adopt a content creation strategy to stimulate demand and get found by curious buyers in the first place.

Question 4. What percentage of the core sales group has the right ingredients for success, i.e. they have the right character and are competent, (but are not currently making their numbers)? The core sales group is the 80% of salespeople who produce 20% of the revenue.
Analysis
This is really interesting and it highlights the problem that drove Mike Bosworth and me to begin searching for the underlying reasons why salespeople with character and competence are not making it.
I'm not a statistician and this is a small sample, but what it indicates to me is that more than half of the core group of salespeople has what it takes to succeed. That is they have character and competence and you would hire them again, because they were good hires in the first place.
The fact that they are not succeeding and that all of the investments in training and technology to support this group are paying a poor dividend and point to a need to keep searching. We think we have found strong evidence of a link between storytelling and speed of trust and we are looking for early adopters who are willing to explore story telling and story tending to improve the performance of the core group.
Next Steps
Mike Bosworth is conducting Open Workshops in Minneapolis in July and in Monterey, CA in October, and you are invited to attend, you are invited to register interest. If you would like to discuss integrating storytelling with visual storytelling, please complete the Open Workshop inquiry so that we can discuss and provide more information..